Your Strategic Asana Partner

Manage your team's goals, tasks and projects in one place.
Get your team set up on Asana with us. We see Asana as a perfect fit with other practice management tools that quote, invoice, purchase and bill. We use Asana ourselves every day to manage our work - including daily task prioritisation, client projects, timelines and meetings - and can share our experience as an Asana Solutions Partner to get your team up and running.
🚀 Place Your Asana Subscription through Apparatus Quo
Key Benefits:
Priority Support with your Asana Partner
Office-hours for the Asana champions and employees, free private sessions
Latest summarised Asana features and updates, New starter training and Asana 101 (if required)
Discounts on services and priority invitations to our events and meet-ups
Q&A on your Asana workflows and use – bring your questions!
"I have recently had the pleasure of working with Apparatus Quo on an Asana improvement project. Apparatus Quo has come in and educated our whole team on Asana, helped us set up better workflows and process improvements. They collaborated with all relevant stakeholders including people in multiple time zones and was agile to make changes when new information came to light. I could not recommend Apparatus Quo highly enough and I look forward to working with them on our next projects!"
Danielle McGloin | COO
Ducere Global Business School
"We have been working with Apparatus Quo for just over 6 months and plan to continue the partnership. Apparatus Quo have helped us set up and improve the use of Asana to support our program delivery and created efficiencies with our internal systems. Josh is articulate, knowledgable and an amazing trainer! I don't always love tech and Josh made it easy and interesting!We have 100% had a measurable ROI from working with Apparatus Quo!"
Loren Pettigrew | General Manager
The Leadership Sphere
"Apparatus Quo helped us implement WorflowMax and Asana for Atlantis Health. Their approach was simple and focused. Every workshop ran was to the point and left us with clear actions to take. I learn a lot from how Apparatus Quo runs sessions, particularly how they use tools such as Asana to drive conversations and keep everyone accountable. Apparatus Quo are excellent trainerers and consultants. But you have to put in the work to be successful in your project. They will help you find the answers to the most challenging questions, but ultimately, you are responsible for your business and have to do your homework.In summary, I highly recommend Apparatus Quo. "
Pablo Matamoros | CTO
Atlantis Health
"Apparatus Quo's wealth of knowledge and experience with Asana proved to be an asset to WomenCAN Australia. I found Apparatus Quo team to be highly approachable and friendly, willing to listen and address any concerns we had regarding our workflow. I would highly recommend Apparatus Quo as an Asana expert. They possesses the technical expertise, communication skills, and personalised approach that are necessary to enhance workflow and productivity. Apparatus Quo's friendly and approachable demeanor makes it a pleasure to work with, and wealth of knowledge and experience with Asana will undoubtedly prove invaluable to any organisation."
Maggie McNeil | Communications Specialist
WomenCAN Australia
"Working with Apparatus Quo is an absolute pleasure! Their thoroughness, professionalism, dedication, and Asana skills are remarkable. I am already looking forward to our next project :)"
Tal Ifrah | Co-founder
Goldnest
"Josh has been incredibly insightful and helpful on our journey transform our agency processes and tech stack. His knowledge is deep - but more importantly his solutions are practical, actionable and easy to understand; a rare commodity in this space, in my experience."
Jeremy Johnston | Managing Partner
Sugar & Partners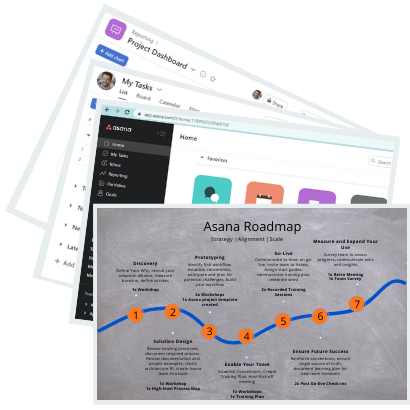 Let's have a chat about you and Asana.