Turning Strategy into Delivery
This is a guest blog post and event recap developed with our student mentee, Max Tong.
Read more for:
Insights into Asana's own 'Pyramid of Clarity'


A framework you can implement today - OKRs


Our Top 3 Takeaways from each expert Panellist:


Simon Minness (Sayers)
Joanna Stanlake (BlueRock)
Lizzie Harrington (Asana)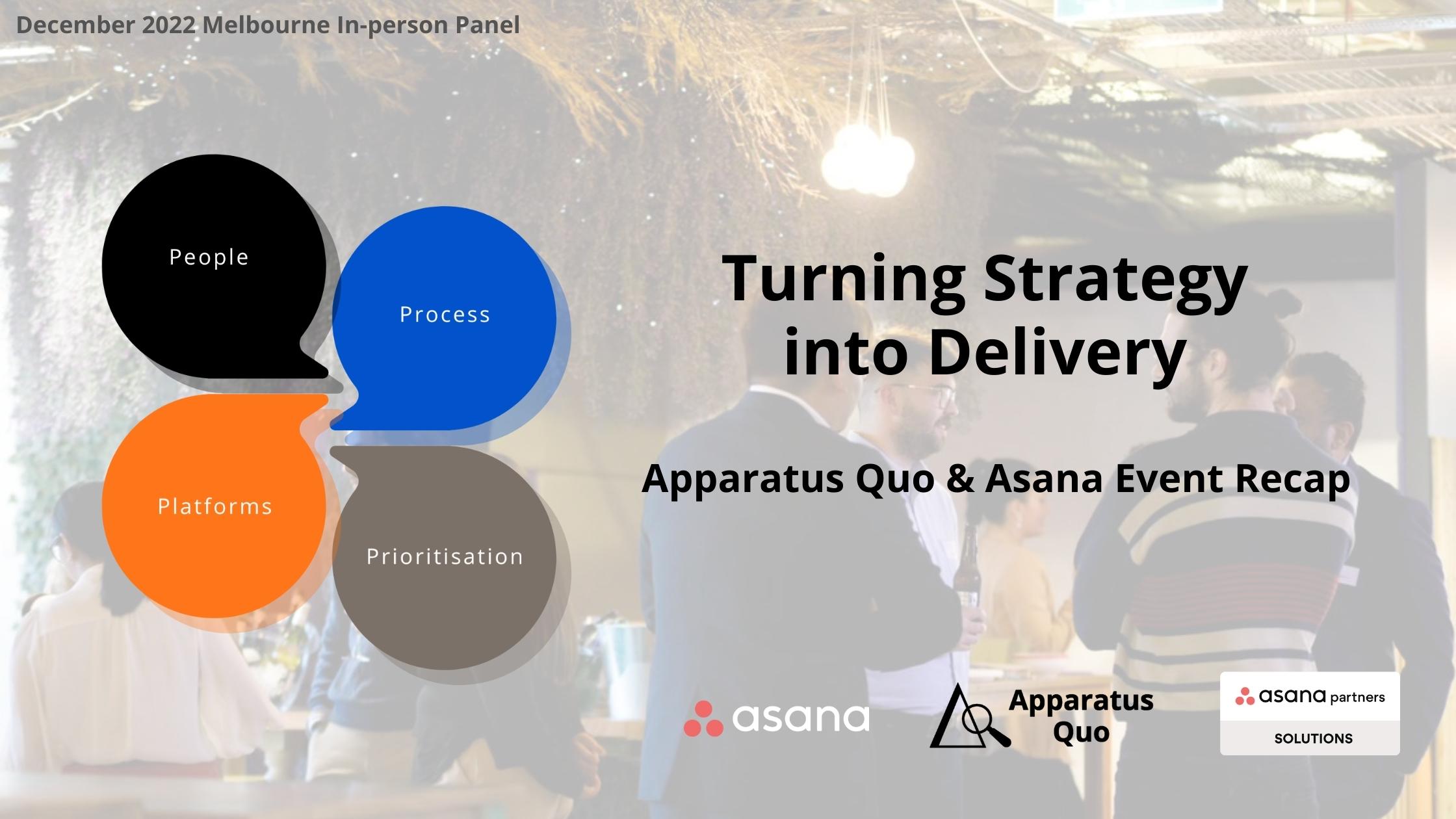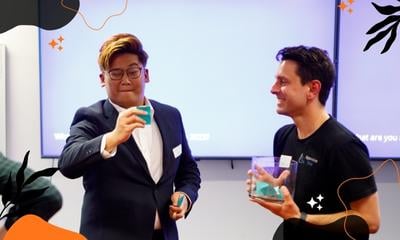 Aligning teams around the business strategy is the key to successful operations. But how do you align strategy to delivery? The answer is simple: by making sure that your team has the necessary governance, skills and tools.
Asana's Pyramid of Clarity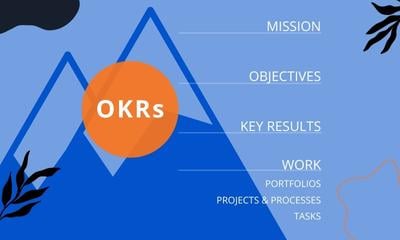 Asana is a collaborative work management solution, designed to help teams easily orchestrate work from day-to-day projects to strategic initiatives. But how can you get your people to produce great results? This can be hard when we spend too much time on 'work about work' like unnecessary meetings, email/messaging and duplicated work rather than strategic work.
Asana can add value in three dimensions:
Efficiency: Improving productivity and reducing work about work
Connectivity: Collaborating more effortlessly
Visibility: Having easy access to information and company/team goals
Asana recommends using their Pyramid of Clarity to drive alignment on the high-level purpose of the work and the concrete results they expect the work to produce. The Pyramid of Clarity shows how longer-term aspirations are built on top of shorter-term goals, whether they're building a product roadmap, or developing business plans.
Asana regularly refer back to the Pyramid of Clarity to help stay on the same page, build confidence in strategy and execution, and help individuals make decisions that are in line with the big picture.
Goal-setting Framework
Objectives and

Key Results (OKRs)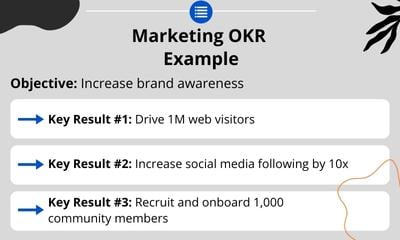 OKRs are a goal-setting framework used by individuals, teams, and organisations to define measurable goals and track their outcomes.
The framework is generally attributed to Andrew Grove who introduced the approach to Intel in the 1970s. John Doerr also published 'Measure What Matters' in 2017, a book based on OKRs, if you're keen to read more!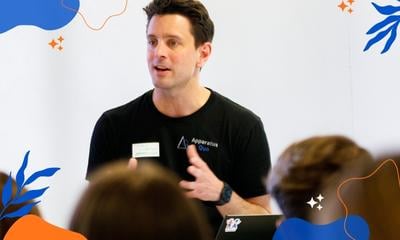 When Apparatus Quo talk about OKRs with their clients, they work through a six-step process:
Set the Basic Rules for your OKR Program - Cadence, Check-in process, How OKRs are set
Co-create Company-wide Objectives

-

Top-level objectives for the organisation, pillars of your strategy

Set KRs for Company-wide Key Results - using the 'CRIB' check: Clarity, Results-oriented, Important, Big

Develop Team and Individual OKRs

Execute, Track and Refine

Grade and Reflect on OKRs
To expand on the six steps above, check out Asana's OKR Goal Management ebook or reach out for a chat.
Max's Top 3 Takeaways from each panellist
Simon Minness, Director from Sayers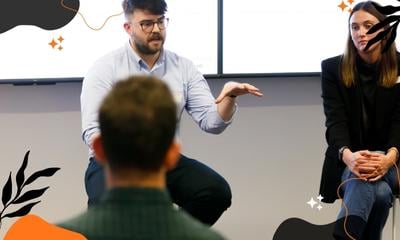 Are you on the Dance Floor or the Balcony?

Dance floor time flies when everyone is so focused on their scope of work, so it becomes necessary for management to take a step back up to 'the balcony' to ensure the team is going in the right direction and the time is spent correctly.

Glass balls and Rubber balls

Glass balls represent the issues/tasks you don't want to break or fall, so prioritise them with care. On the other hand, rubber balls are the ones that your team can bounce back from. A good leader can distinguish between 'glass' and 'rubber balls' to prioritise and delegate accordingly.

Balance speed of delivery with Governance and Control

So that you can make informed choices about where you invest your people, money and time.
Joanna Stanlake, Director of Marketing and Communication from BlueRock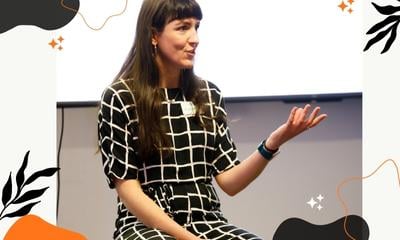 Effective Communication goes a long way




Do not assume that every team member has the same alignment to strategy as you, with how deep the strategy is embedded in their minds day-to-day. It is critical to provide time for a one-on-ones to know whether they need support.

Setting a Cadence with the team

Set a recurring meeting cadence for annual planning, monthly strategy check-ins and weekly delivery WIPs.

Use the data and information provided to keep optimising and align with the team.




Forward Planning, Test and Learn




Jo's organisation, BlueRock, moves very fast, but there is always a plan. Take a 'Test and Learn' attitude, ensure there is a plan in place to review against. The overarching strategy is always there, but channel plans require the team to be tactical and focussed on strict timeframes, which are then frequently reviewed and fed back into the next cycle of planning.
Lizzie Harrington, Channel Partnerships at Asana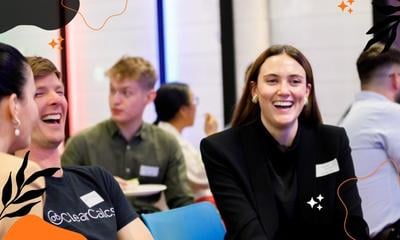 Planning from the get-go - provide clarity on the end goals




Articulate a clear vision and mission, with clear visibility on outcomes and how to get there. For the team to keep track of everything they are doing, it is critical for the management team to provide clarity and help the team visualise the strategy. Make the objectives front-of-mind and visible.

Strategy is collaborative, Delivery is more individual




Strategy is more about collaboration, how you get different teams from different locations working together, while delivery is how you ensure each team member gets things done.

Use great tools!

Tools that allow you to regularly check-in, see a timeline of activity and allow people to be across things. With so many communication channels available

, there is a big chance that action points and tasks get lost during/after the conversation. So it is essential to use great tools, such as Asana, to develop collaborative meeting agendas, allocate tasks and track everyone's progress through a central source of truth.
Want to turn your Strategy into Delivery?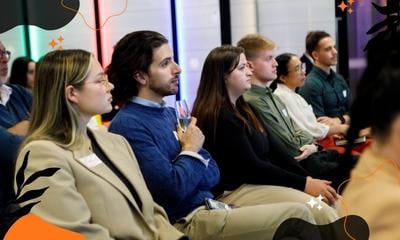 Chat to us - Contact Apparatus Quo to book a meeting
Read more about Apparatus Quo's Asana offering - Asana Solutions Partner - Apparatus Quo
Related articles -
About the Author and the STEM Mentoring Program - Max
Mentors are essential for those who are just starting out in their careers. They can provide guidance and advice on how to develop the skills required and help you find your way to build professional relationships and develop a personal-branding strategy.
I was in my first year of university and had no idea how to navigate the industry. I knew I wanted to work in the STEM industry, but I did not know what direction to take. One day, a friend of mine told me about a mentorship program at the University of Melbourne called the STEM Industry Mentoring Program. The program is to connect students with professionals in STEM industries for one-on-one mentorship sessions.
I enrolled on the program and was lucky to have Josh, founder of Apparatus Quo as my mentor. He has helped me with my career development, provided me with valuable advice and helped me navigate my way in the industry.
I was invited to support one of the Melbourne events held by Apparatus Quo and Asana in collaboration with other panelists, 'Strategy X Delivery Panel Discussion'. The event explored the practicalities around how to turn strategy into delivery within an organisational context. Panelists discussed how to make milestones meaningful and achievable, how to coordinate across teams, and more.
Max Tong